World Series of Industry & Investor
Partnering Conferences
on Diagnostics, Digital Health, Precision Medicine & Life Science Tools
3 Days in Person:
July 26th - 28th, 2022
2 Weeks Digital Partnering:
July 14th - 25th, 2022
Location:
AACC Clinical Lab Expo, McCormick Place, Chicago
Get the latest news on DxPx by subscribing to our newsletter:
Subscribe here
One-on-one meeting cubicles
For the first time
in person
at AACC
Clinical Lab Expo, Chicago!
We hosted the DxPx US 2021 virtually due to the pandemic, and now we're going next level by being finally in the flesh in the US! It's always a better idea to experience networking and partnering face-to-face, anyway.
The founders of DxPx are all startup entrepreneurs and former industry executives who had the idea for this conference after having attended numerous partnering events where the vast majority of participants and investors were focused on pharma, biotech, and drug screening opportunities.
With the gaining importance of diagnostics, digital health, precision medicine, and life science tools, there's a need for a dedicated platform to bring together the relevant stakeholders and further drive our industries.
Together with the support of our sponsors DxPx is hosted as an annual international partnering conference to facilitate licensing, financing, co-development, and M&A opportunities and celebrates great success and fast growth.
What's new this year is our partnership with AACC and that we are building a Startup City at the DxPx US.
We look forward to welcoming you in person at the DxPx US!
Several hundred investors from the US and the rest of the world, with interest in diagnostics, digital health, precision medicine and life science tools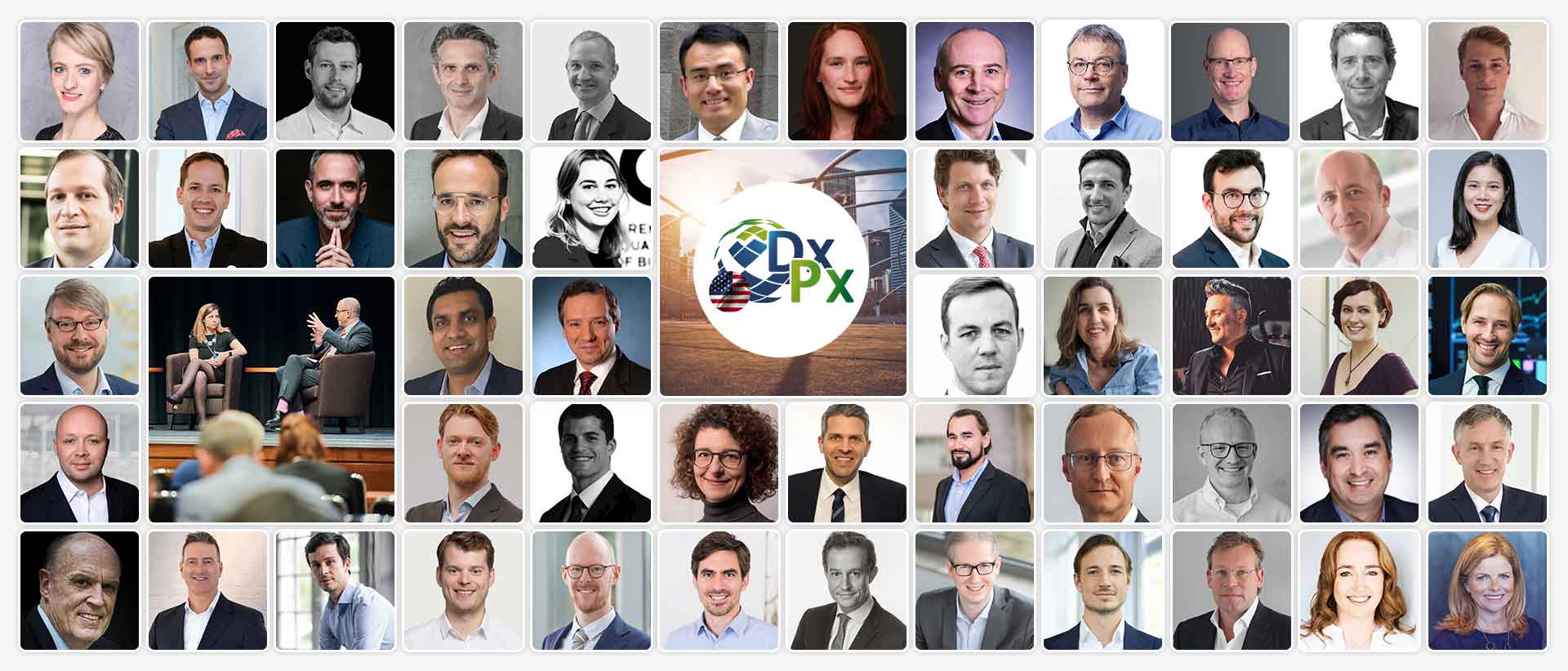 "The conference was well organized and very professional, and following the keynote speech presentation we had many current and potential customer and supplier interactions. Some of these have led to new business, and some contacts may lead to new products, development opportunities, or the use of a synergistic technology in our research and development activities. Thank you for allowing us this opportunity."
"Well-organized event with valuable networking opportunities, exciting presentations, and inspiring pitches. Had some impactful follow-ups and looking forward to future events!"
Partnering and networking
We adapt the established international partnering concept of the DxPx EU to the specific needs of companies and startups from the US.
Together with our strong partners and active life science investors, we have created a precise solution to reach your financial milestones. Attract and network with the world's leading KOLs who know and understand your industry – not just various service providers – at the DxPx US.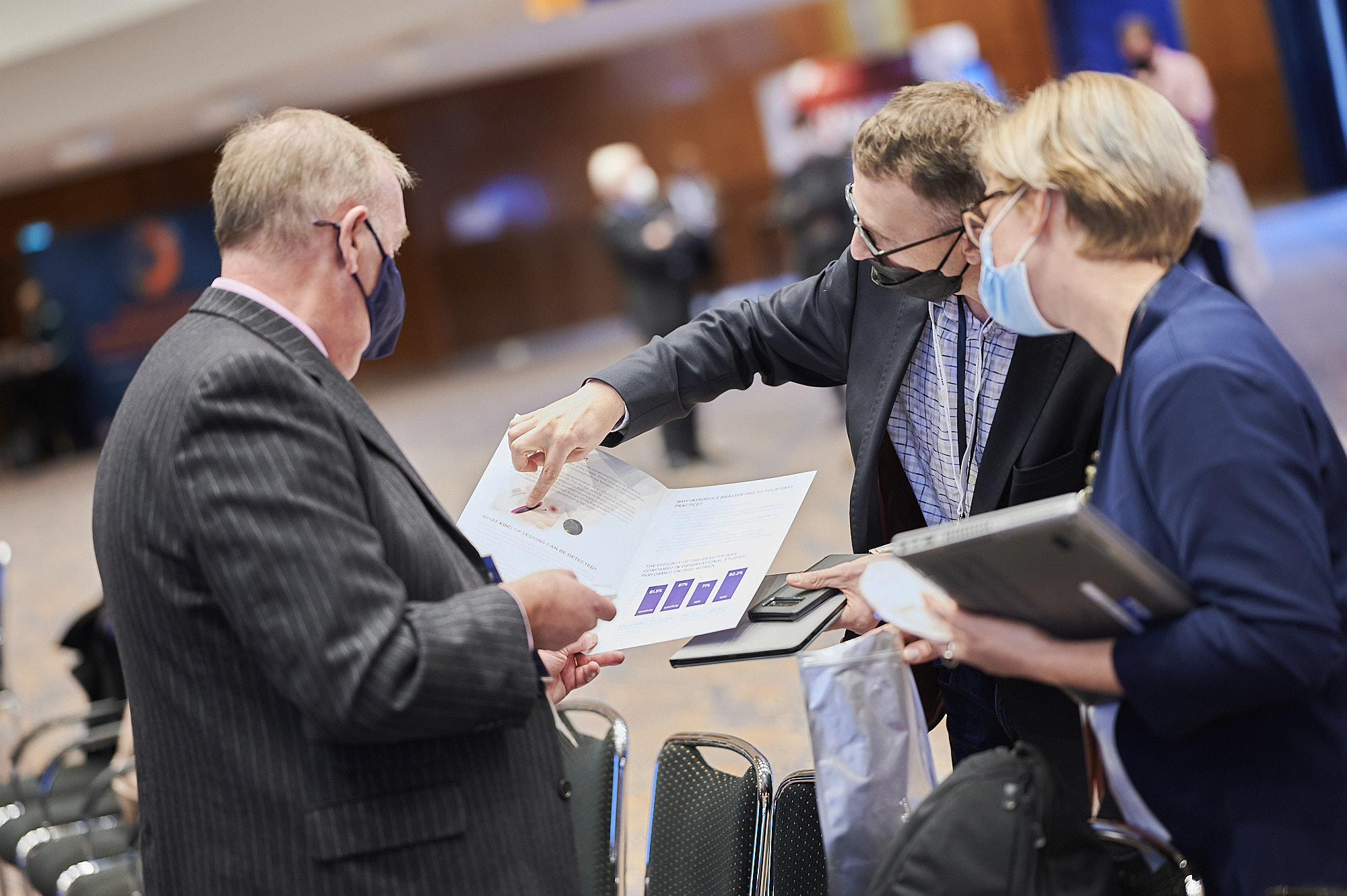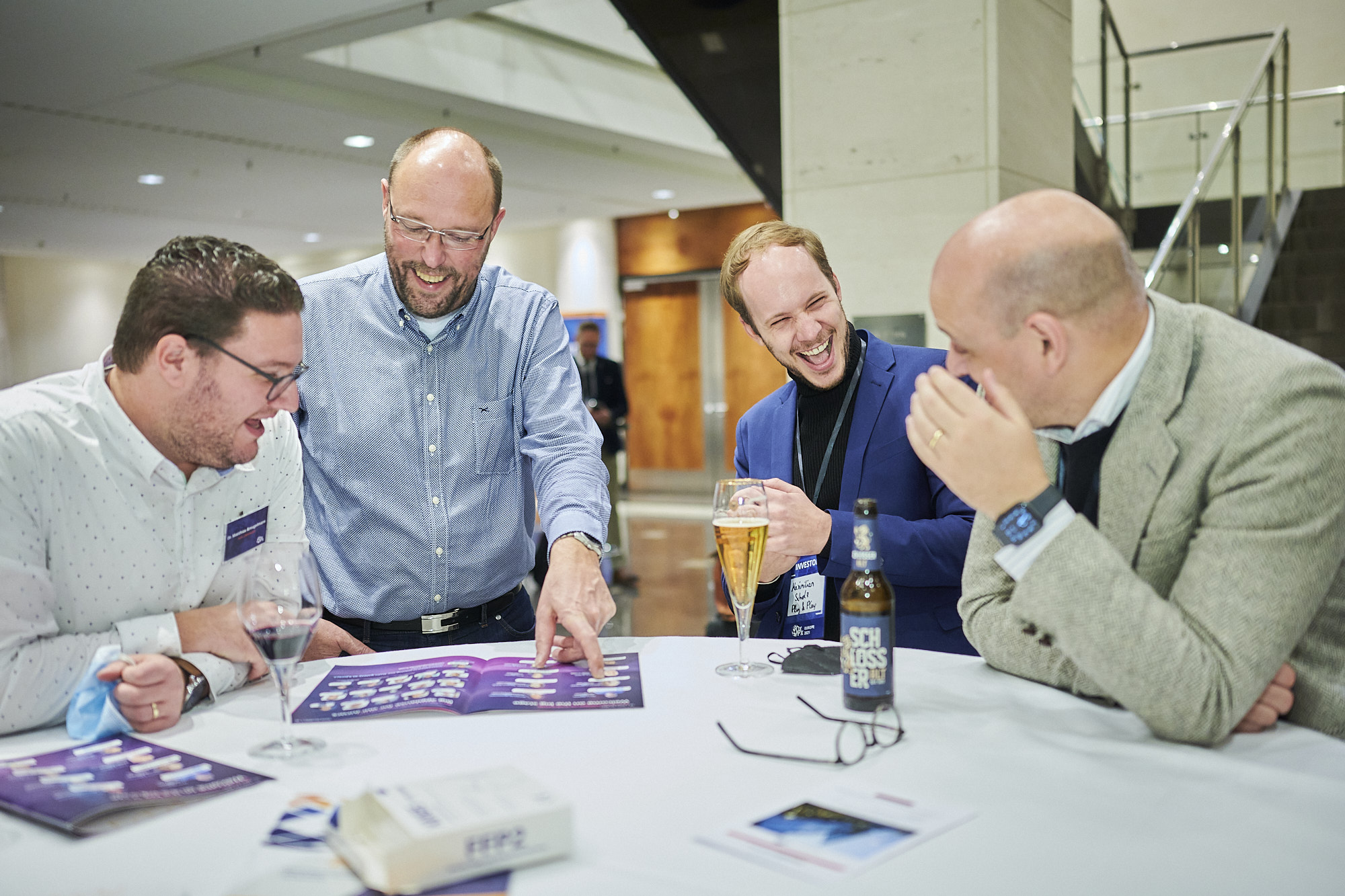 Benefits of participating
Schedule one-to-one meetings with your required target groups, e.g., growth companies, investors, and decision makers.
Promote your company to industry executives and showcase your products on-site or virtually.
Learn from pioneers of the industry and experience knowledge transfer at the highest level.
Explore financing, licensing, and M&A opportunities.
Submit a pitch and have it reviewed by our executive jury. The best applicants will gain the opportunity to pitch their business and compete for $2,000,000 funding at our 42PLUS1 Pitch Award (for startups!)
New this year! Be part of the DxPx Startup City where innovative startups and growth companies get their own booth and showcase their business.
Bonus! Since we are in partnership with AACC, each DxPx participant will also get a code for a free ticket to AACC's Clinical Lab Expo. This grants you access to the Expo Hall with 700+ exhibitors and 200+ product categories.
DxPx is the only dedicated annual industry and investor partnering conference focusing on Diagnostics, Digital Health, Precision Medicine, and Life Science Tools. It is an established world series of partnering events and for the past four years now, we have been able to bring people together where our participants build long-lasting trustful partnerships with investors, industry leaders, startups, and accelerators.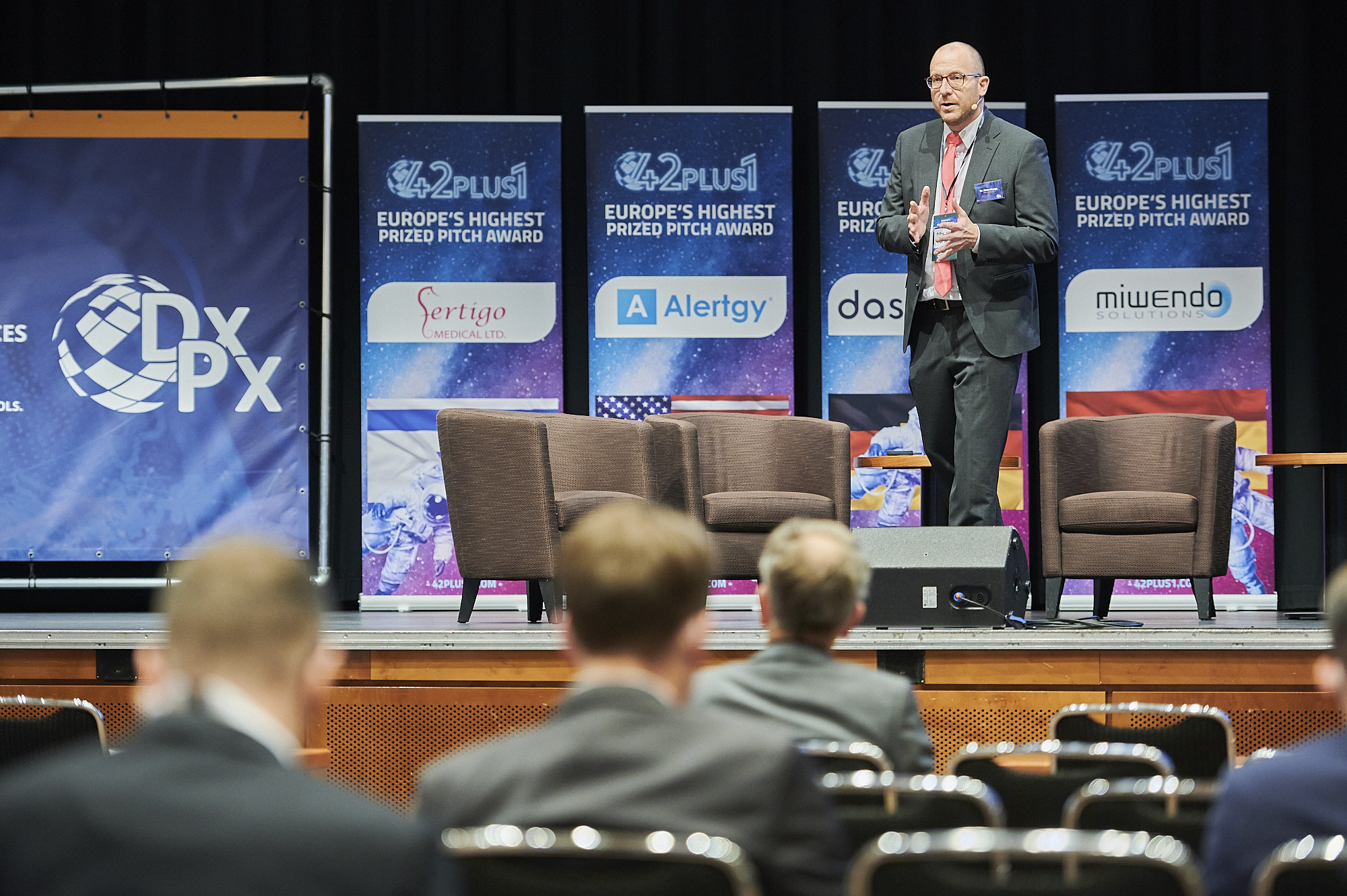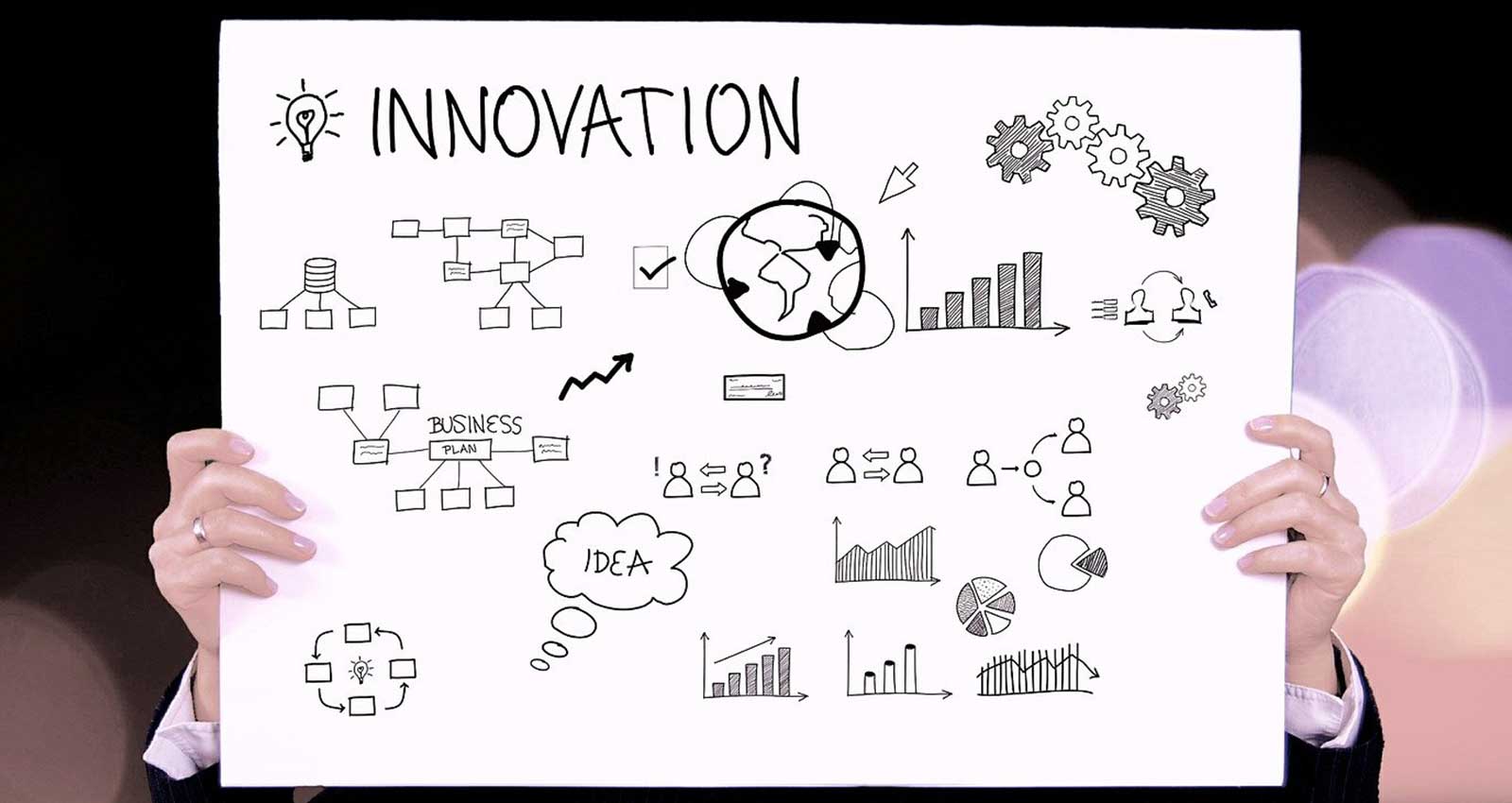 The past two years have demonstrated the immense relevance of the four interrelated industries mentioned to combat a worldwide pandemic. Novel diagnostic tests helped to identify and mitigate outbreaks, digital health solutions aided patients suffering from the long-Covid syndrome, and life science tools played a critical role in the manufacturing of vaccines. The entire industry responded so swiftly and effectively to this new public health threat. From the first recorded COVID patients in December 2019, it only took a few months until large diagnostic players such as Roche and Danaher were able to offer COVID tests. To support R&D efforts, over €1 billion were provided by the European Union alone, with plans to raise investments by an extra €3.6 billion by 2027. 
An introduction to 42PLUS1
Furthermore, venture capital investments spiked, and we recognized some high-value acquisitions in the diagnostics space last year like Alertgy, ANANDA Devices, Dermagnostix, and Fertigo Medical. It is interesting how this increased funding and the new partnerships translate into bigger innovati­ons and ultimately new solutions for patients and the healthcare system.  
One way to help foster innovation is to support matchmaking between investors, entrepreneurs, and industry leaders worldwide. Therefore, in parallel to the DxPx Conference, we introduced 42PLUS1 pitch award, the highest prized pitch award dedicated to the diagnostics, digital health, precision medicine, and life science tools industries. The idea behind 42PLUS1 is simple. 42 is known as the answer to the ultimate question of life, the universe, and everything. This excerpt comes from the movie "Hitchhiker's Guide to the Galaxy". About the big big big startup universe, we all look for a specific answer to one question: "How am I to find investors and become visible among the many stars of the ever-growing startup universe?" And this is why our team set up 42PLUS1.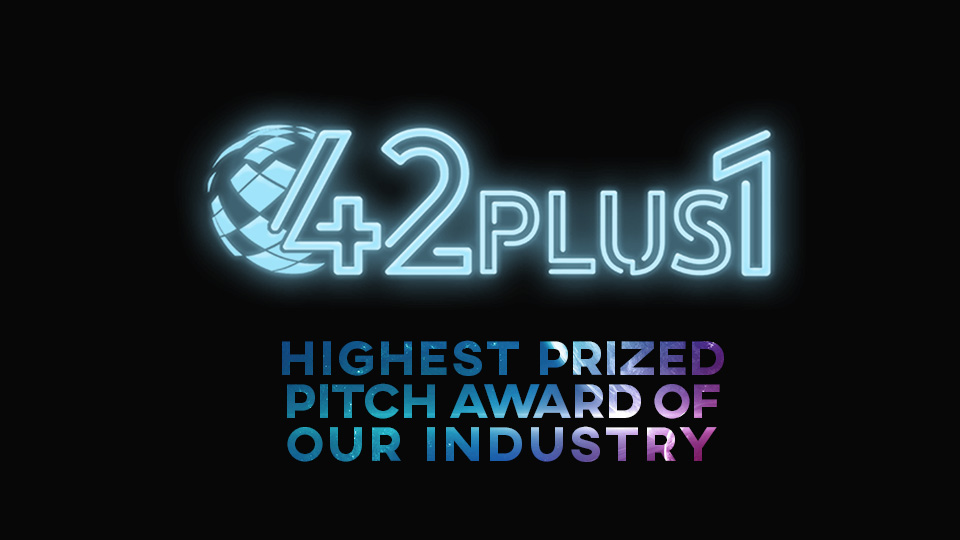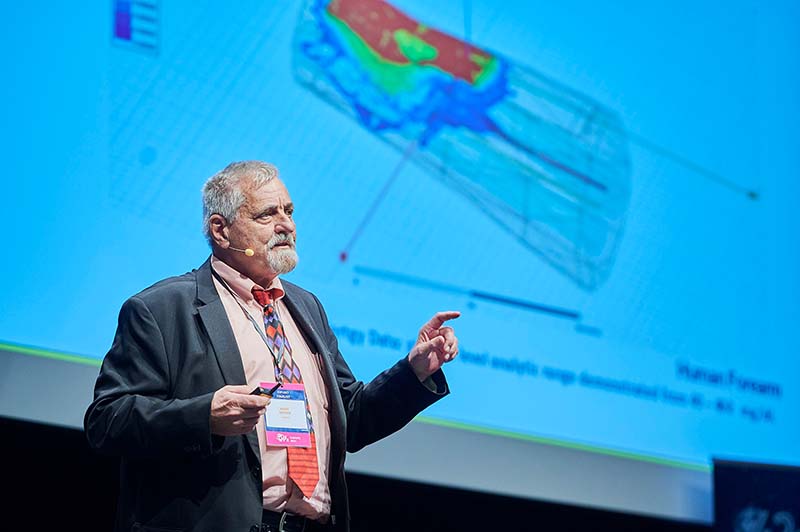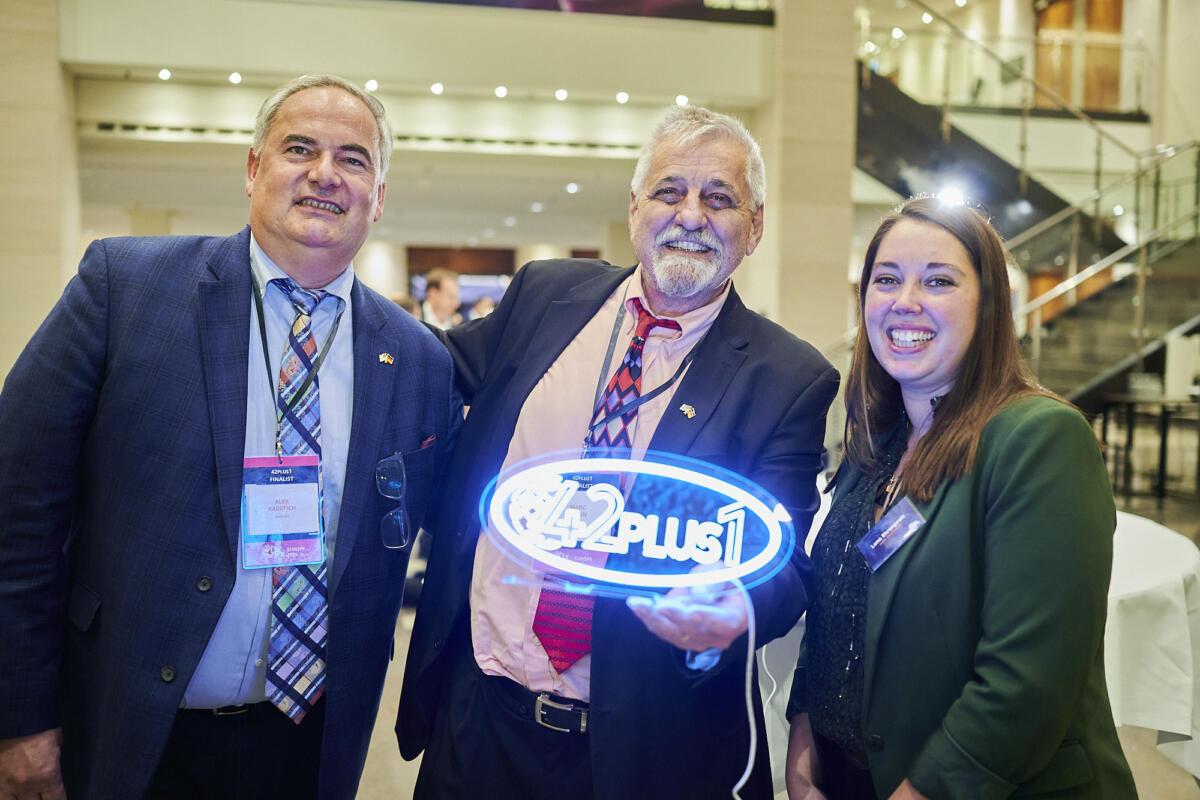 42PLUS1: Its process and mission
42PLUS1 aims to connect future leaders and innovators with experienced professionals that constitute the DxPx Conference of today and award the winner/s with $2,000,000 convertibles. Startups and growth companies in the early-stage development (from Seed to Series A project stage, from prototype to already certified products) who are disrupting technology and moving in the fields of these four industries are welcome to submit their pitches and join the competition.  
These pitch submissions are carefully reviewed by the well-curated 42PLUS1 jurors, and eight finalists are chosen to take over the stage during the grand finale at the DxPx flagship conference, DxPx EU, in Düsseldorf, Germany. These eight finalists get the chance to pitch and showcase their innovations in front of renowned investors and industry leaders. Winner/s get the opportunity to win convertible loans for up to $2,000,000! The prize will be split within the winner/s.  Regardless of winning, being part of the DxPx Conference raises the opportunity to connect with potential investors, venture capitalists, and business angels, and gain some insights from industry leaders by listening to the panel discussions and fireside chats offered at DxPx. Startups can engage in person with DxPx participants to promote their businesses and talk about future collaborations. This is the reason why we continue to put a spotlight on 42PLUS1 during the conference because it's a win-win opportunity for all kinds of participants.  
The team, organizing DxPx and 42PLUS1 is proud to be able to make its contribution to the innovative industry scene, developing the next big thing to advance the healthcare system! 
Networking in the beautiful city of Chicago
In 2022, our goal is to become even better!
To achieve this we are bringing in more startups with great potential and promising innovations.
The venue, AACC Clinical Lab Expo, McCormick Place, is a premier convention facility with over 2.6 million square feet of exhibit space. It is found on Chicago's lakefront, just minutes from downtown and facing one of the most iconic skylines in the world. It provides world-class facilities that can accommodate the DxPx US Conference.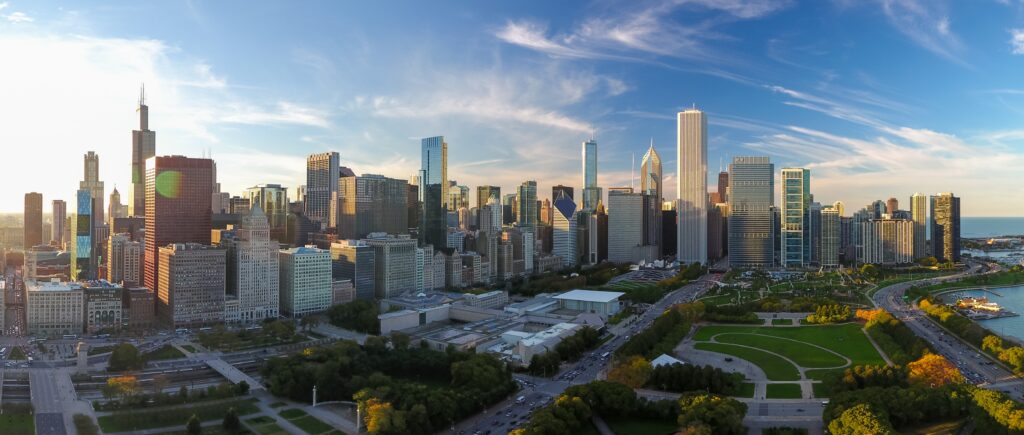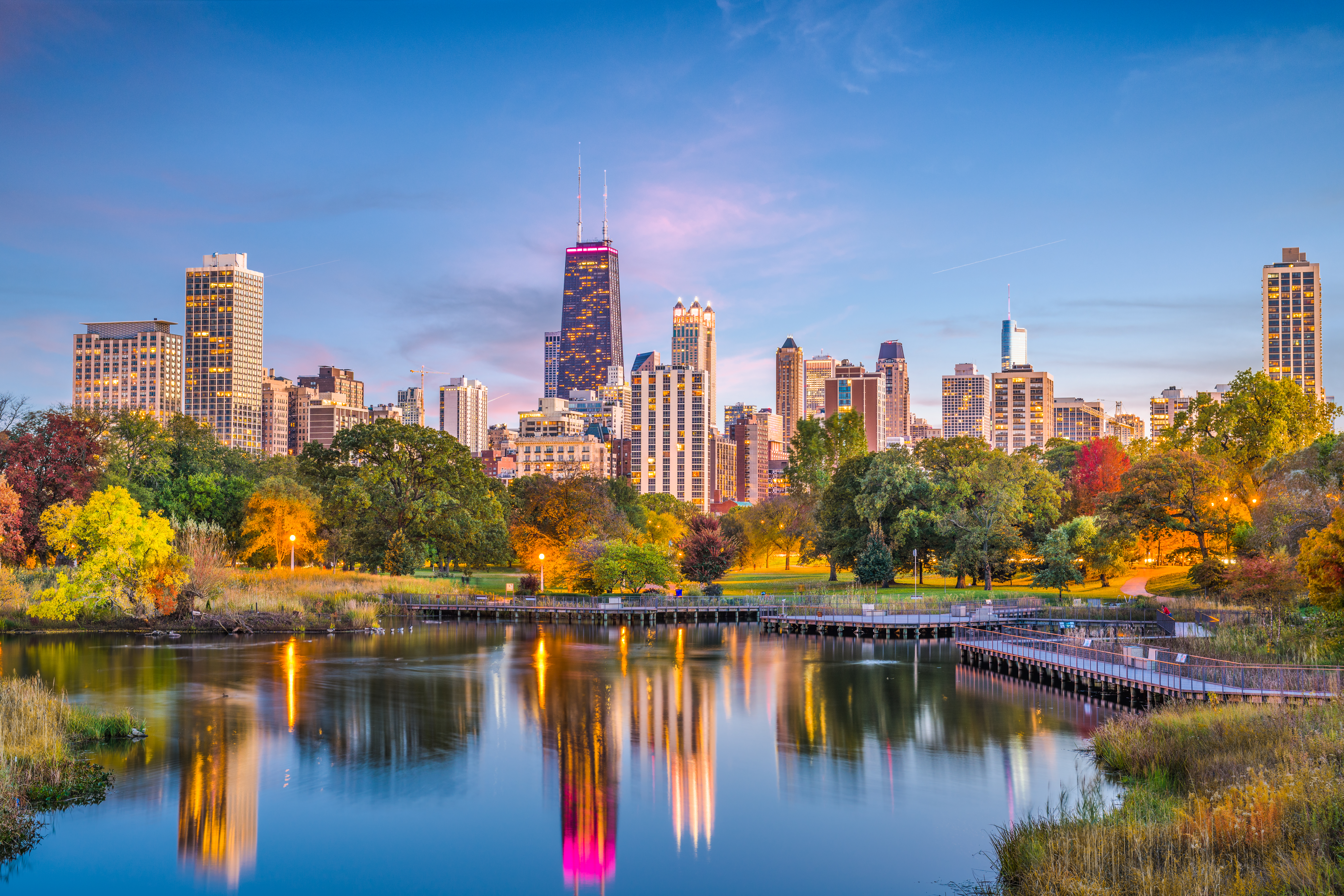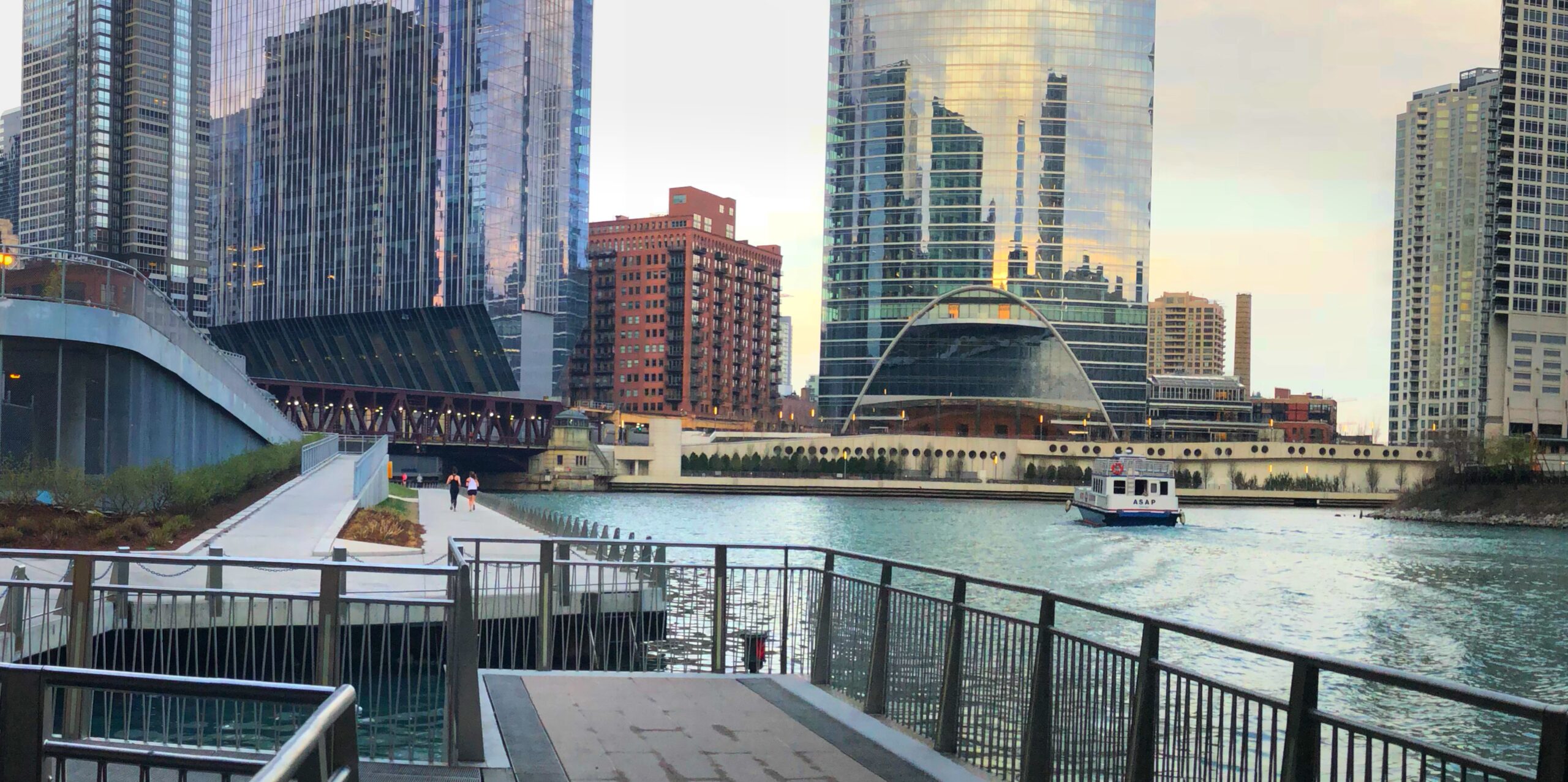 Travel and more information
While staying in the beautiful city of Chicago and its amazing skylines, here are other things that make the place special.
Chicago is known for its gorgeous skylines and one of the best ways to see them is by viewing them from one of the rooftops (this is why we are having our reception at the VU Rooftop Bar, Hiltons at McCormick Place!).
Chicago is more than meets the eye! Aside from having these magnificent huge buildings and for being known as one of the largest urban cities in the world, it has amazing sceneries that's why it was incorporated in 1837 as the "City in a Garden". The city has 570 beautiful parks with museums and 50 green areas.

The famous Lincoln Park covers 1,200 acres and attracts 20 million visitors each year making it the third park with the most tourists per year after Central Park of New York and National Mall and Memorial Parks of Washington, D.C. Other spots you may visit after the DxPx Conference are The Art Institute of Chicago, Museum of Science and Industry, Chicago Observation Deck, Cloud Gate, Millennium Park, Field Museum, Magnificent Mile, Chicago Riverwalk, Chicago Cultural Center, and many more!