The most important things about the start-up scene are 'visibility and networking'. This is why conferences and other events are particularly relevant for newcomers, no matter what phase their company is in, be it founding or raising funds. Participating in DxPx can take your start-up to the next important step.
There are countless start-ups on the market, but only a few manage to survive in the long run. Start-up events offer an amazing learning experience for young entrepreneurs. Participating in such networking events helps you acquire the tools and skills necessary to counteract your own forgetting.
Especially as a company at the earliest stage of its lifecycle, participating in industry events is the smartest way to get a feel for them and throw your name into the race.
DxPx. Advantages.
Meet the right people
Finding the right people to potentially network to is an extremely difficult task. Conferences and other events are therefore the best way to make new contacts, identify strong acquaintances and build relationships. There is nothing better and more effective than meeting other visionaries, enthusiasts, influencers, CEOs and potential clients in person to discuss your ideas, sometimes rethink them and get closer to your goals, because every startup needs at least one gatekeeper. Take the chance to pre-schedule one-to-one meetings with your identified respondent and make the most out of your participation at DxPx.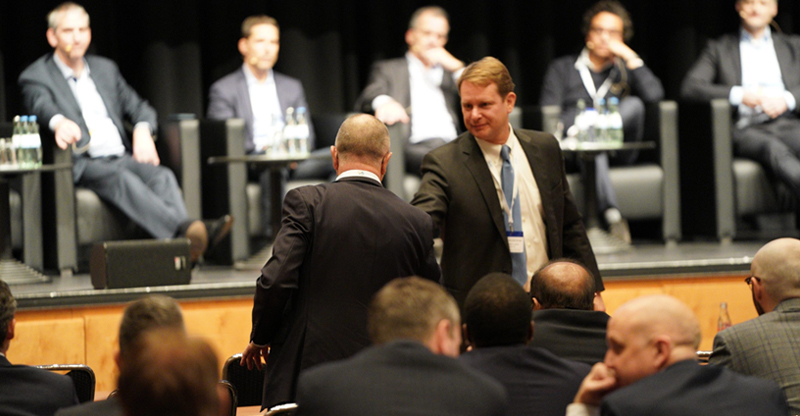 Acquire Investors
DxPx, hosted as Investor and Industry Partnering Conference, is exactly the right place, especially when it comes to financing. Here you meet investors, VCs, and business angels and throw yourself directly into the ring of product marketing. However, this does not immediately lead to the source of money. Rather, the first contact forms the prelude to a possible business relationship, which, in addition to a great deal of attention and care, also requires strategic skills in order to lead to the desired support in the long term. On the way there, these contacts can lead to presentation possibilities, e.g. pitch competitions, in which the own product is presented as an expert in the own niche, in order to win further investors. The road to success and sustainable existence for startups is a long and rocky one, on which the network must grow steadily.
Pitch your business
With the newly launched 42PLUS1 Pitch Award startups/growth companies receive up to $2,000,000 funding. The funding will be granted to the three winners as convertible loan to build further value for the next financing round. This opportunity should not be missed.
Each application is reviewed by at least a dozen VCs and industry executives; even their feedback is shared. A vast number of renowned decision makers with genuine interest will attend the pitch! For more information, e.g. how to submit your pitch, please have a look at the website.
Being in the spotlight
Startup events and partnering conferences are packed with journalists, media professionals and influencers. This is a great opportunity to carry your name out into the world. The DxPx provides a stage for startups, which can mean the boards to the world. Among the spectators are also media houses and PR agencies whose contact and favor can help in the long term to build a solid bridge to the end user.
Product feedback
We live in a world of oversupply, packed with NDAs and secret clauses. That's why it's more important than ever to get feedback. Conversations with specialist participants help to sharpen your company's focus and identify weaknesses. DxPx not only provides space and time for this, but also gives the opportunity to examine one's own competition and sometimes to realign one's own company. Because only those who create added value for the market can reap the rewards.
New inspirations
Although it's easy to get inspired on Google or YouTube, attending events is a great learning experience, because you're not just an observer here, you get into action. Especially for startups in the early stages it is exciting and important to learn from experienced business people and other participants, be it networking itself, pitching or the long-term network maintenance that follows. Also, the opportunity to join panel discussions and fireside chats to make the most out of the attendance at DxPx is given.
Having fun
In addition to all the networking and investor search, the fun factor must not be forgotten. It is a great pleasure to participate in a conference, to capture its unique atmosphere while strolling through your rooms and to enjoy the feeling of being part of the community. It gives a boost to one's own creativity and supports both corporate identity and culture.
There are many global events where startups can participate. Localizing the right ones for yourself is therefore of enormous importance, because time is money and usually plays against young companies whose bright ideas can be quickly thought of by others. To find out if the DxPx is right for you, take a look at the website.